Eastern Arizona Amateur Radio
Society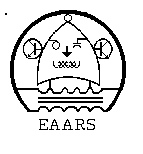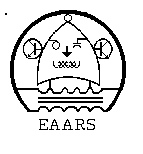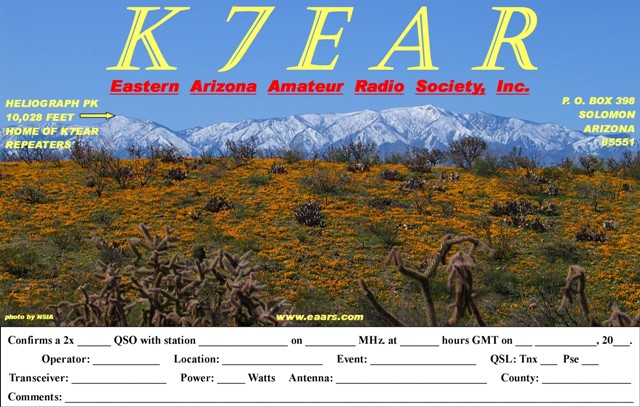 The Eastern Arizona Amateur Radio Society was founded in October of 1974, with the purpose of uniting the Amateurs in Southeastern Arizona and Southwestern New Mexico into a working group that would promote amateur radio in the region.

The approximately 25 charter members were from three counties in Arizona and one county in New Mexico.
Currently the club operates several repeater stations from Heliograph Peak. Heliograph is located south of Safford, Arizona at an elevation of 10,028 amsl. 146.90 PL 141.3 is the original repeater sponsored by EAARS. We also have a UHF repeater on 447.825 PL 141.3 and 100.0. These repeaters are not tied into the EAARS network. Click below link for information regarding the EAARS Network system of linked repeaters.
Also on Heliograph Peak, there is a APRS radio on 144.39,the National APRS channel.
Also operating on Heliograph are the 146.86 & 440.700 repeaters, hub for the EAARS Network of linked repeaters, both have a PL of 141.3 Hz
Visitors to the area are welcome to use the open repeaters.

LATEST CLUB NEWS


EAARS Network Repeater Info
EAARS Courtesy Beep info
EAARS Policy Regarding Compensation for Volunteers
VE Testing Information Page
Click here to listen to live EAARS repeater audio
Guidelines for EAARS Repeater Use
Join E.A.A.R.S.
A Message from the Repeater Trustee
Quick Start Guide for IRLP and Echolink
EAARS 2014 Field Day photos thumbnails
Ft Bowie Photos, Natl Park On Air Activity 2016
Click here for EAARS Yahoo Groups
Assorted Club Photos


Click here for bulk photos of Field Day, 7QP etc


EAARS ONLINE NEWSLETTERS


CLUB BYLAWS


EAARS 2009 7QP contest photos


7QP Sponsor Write-Ups 2007 Thru 2012


2005 FIELD DAY PHOTOS


2003 FIELD DAY PHOTOS


2002 FIELD DAY PHOTOS


Field Day & 7QP statistics



Club Officers
Charter Members
Members Homepages and E-Mail addresses
Lone Star DX Assn, DX Notebook Links, Interesting information
K7EAR 10-10 Club Participation

Repeater Directories
Arizona Repeater Owners
Frequency Coordination Committee
Repeater Listings Latest Scanner Frequencies

Callsign Databases
Buckmaster's Callsign Database QRZ Callsign Database WM7D dot Net
Callsign database plus links to trains, train pictures, firearms links, and etc.


Local Ham History
Old Zia Link Historical Info

Nearby New Mexico and West Texas Clubs
Sun City Amateur Radio Club, K5WPH, El Paso, Texas
Deming, NM Amateur Radio Club
Jacks Peak Amateur Radio Assn
THE Mega-Link Repeater System
Cochise Amateur Radio Assn.


7th District QSL Bureau
More Good Ham Information Try:
hamrad
Download cool photos direct from the
Hubble Space Telescope!

Eastern Arizona Amateur Radio Society, Inc.
Mailing address:
P.O. Box 398
Solomon, AZ 85551

N7AM